Testimonials
Betty was so fantastic that I don't think we'll ever be able to top this party. Her singing and mannerisms were outstanding. Her warmth and rapport with our guests was such that they were dancing and singing along with her during her stage show. Additionally, she is a pleasure to work with. A pro in every detail, her costumes were so authentic my wife was completely dazzled by them. She is a big Cher fan and we've been to numerous Cher concerts. Betty truly does Cher justice and is honestly the best Cher impersonator we have ever seen. The comments from our guests affirm that we made the right choice. They are still emailing and calling me to tell me how wonderful she was. Thank you, Betty!
--Henry W., Orlando, FL
We would like to take this opportunity to thank you not only for an excellent performance but for your expertise. Your impression of Cher was outstanding and extremely entertaining. The audience absolutely loved you! We could not have asked for a better performance. Your choreography for the dance routines was flawless. The dancers displayed true professional talent and the costumes were beautiful. Thank you again to you and your team!
--Michelle D., Lake Buena Vista, FL
Betty Atchison was outstanding and gave us a performance that was truly polished and professional. The addition of her company of well choreographed dancers took the show over the top. She went above and beyond to make sure every detail was exactly as we requested and gave our audience that extra something that we were hoping for. I will highly recommend Betty to any person who needs a true talent.
--Claudio R., Wayne, PA
Betty was a treat to work with. She made my experience in planning this event a pleasure.
--Kent H., Orlando, FL
Betty Atchison as Cher was AMAZING! Her looks, voice, and mannerisms were so like Cher that everyone gasped and applauded when she first entered the room! (Our Cher fans were ecstatic!) Her show was extremely fun and interactive. Betty is the consumate professional and her costumes were breathtaking. The photos really don't do them justice! We could not be happier with her performance and will recommend her to everyone.
--Harry T., Fayette, MO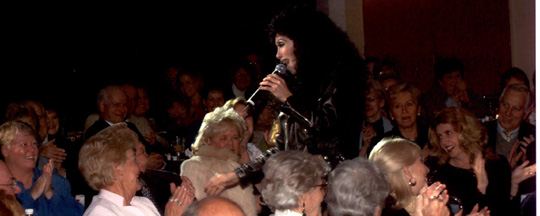 I was absolutely delighted with Betty's performance as Cher and will most definitely use her again for future functions. Her stunning performance and spot-on resemblance to Cher was truly outstanding. My father and his guests haven't stopped talking about her since the party. Highly professional and a genuinely nice person, Betty Atchison receives my highest recommendation.
--Don E., Bethesda, MD
Betty Atchison "Cher" was very friendly and professional. Betty helped create a program that suited everyone in attendance. The audience responded to her and everyone left the evening with a smile! The show is still being talked about among neighbors and friends.
--Gina G, Port Orange, FL
Betty was a pleasure to work with, very professional. She made our party a huge hit!
--Rachel V, Vero Beach, FL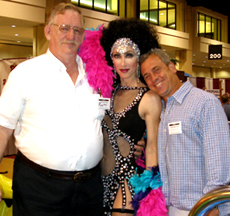 A fantastic experience! This was our first time using an impersonator to entertain and we were absolutely delighted with Betty's performance as Cher. She is truly a first class act. We will recommend her to anyone needing a great impersonator.
--Ray J. Winter Park, FL
Thank you for doing such a great job impersonating "Cher" for the Florida Association of Realtors. The client was thrilled! Enclosed, please find a copy of the video footage from your pre-recorded segment. It is always a pleasure working with you!
--Christine Logan, T.Skorman Productions
Cher was the hit of the party. Guests were not sure if it was the real Cher or an impersonator. Betty did a great job and included some audience participation which really added to the the production.

-Helene K, Birthday Party, North Miami, FL
The show was fantastic and everybody enjoyed looking and listening to you. Thank you for making our Toys For Tots fundraiser the success that it was.



-Barry B., Delray Beach , FL